Wayne THE DANE Hansen will be at the following shows in 2005
SPRING 2005
2005 Chiller Theatre Toy, Model & Film Expo
Sheraton Meadowlands East Rutherford, NJ
April 29 - May 1, 2005

2005 Wonderfest, Louisville, KY. May 28 & 29, 2005
www.wonderfest.com
Pictures from Past Shows
Figure kit conventions are a great time for Garage kit friends to meet, sell, plan kits and get rowdy! Most of these pictures are of the Resin Realities Hobbies & Toys team. Let me introduce you to my guys.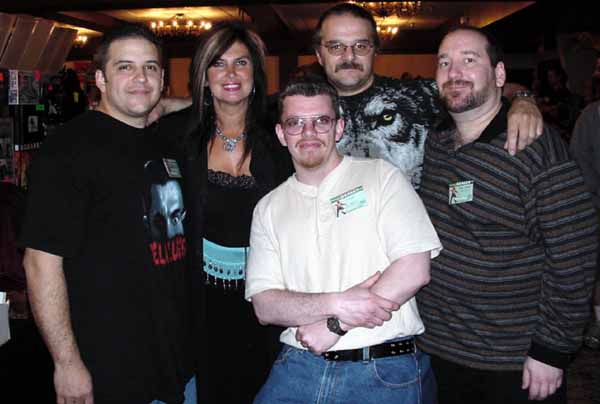 Wonderfest 2003 (l to r) Saul Alverez, Caroline Munroe, Jerry Mendoza, Mark VanTine, John Diaz (bottom)

John Diaz is the Bronx, NY native who runs Resin Realities. He's the guy with the glasses other than me. John has been in the garage kit business since it began in the 1980's. Mr. Diaz is the brain behind many great kits! John is also the main man in the mold making and casting department at Resin Realities Toys. A more honest guy, you'll never meet, as his kit customers can testify to.

Mark VanTine, master sculptor and kit painter, really needs no introduction. An Allentown, PA resident, Mark's likeness busts and superheroes have rocketed him to instant fame in the garage kit hobby! Among the praises Mark VanTine has garnered: England's Mike Hill has acknowledged Mr. VanTine's work as on par with his own! Mark VanTine has captured many gold 1st place trophies for his painted kits!

Saul Alverez is Resin Realities's master kit painter and a Queens, NY native. Saul has also produced kits such the Geometric Design's "Son Of Frankenstein" companion kit, The 1/8th figure kit, "IGOR", sculpted by Saul's friend, Mike Hill. Saul Alverez is sweeping many top awards at all the garage kit conventions. Saul is also a budding figure sculptor! Need a really great custom figure kit painted? You'll be hearing more from Saul Alverez very soon. This guy is the hottest!

Jerry Mendoza, AKA "Wolf's Den" models & toys is another great friend and can be seen set up with Resin Realities at Chiller Theatre spring & fall conventions. Jerry is our New Englander and close friend of actress Caroline Munroe, who has appeared in Ray Harryhausen Sinbad films.

Wayne THE DANE Hansen is proud to be a part of one of the greatest garage kit teams ever, Resin Realities!

A NOTE: If you think I'm prejudice in favor of "my Tribe", as I like to call them, this year's Wonderfest 2003 convention yielded another enthusiastic fan of Resin Realities's kits, The one & only Mr. Ray Harryhausen. The first thing(s) Ray bought at Wonderfest for his personal collection were the Resin Realities, John Diaz/Mark VanTine sculpted, Saul Alverez painted "Bride Of Frankenstein" Busts series!