Videos
Tools
Kits
Contact
Order form
Shows
Galleries
Links
Coming Soon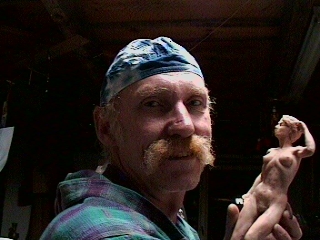 Wayne THE DANE Hansen is a self-taught, professional figure sculptor and
sculpture teacher. Born Wayne Siegaard Hansen on December 22, 1947. Wayne is the son of immigrants, mother Canadian, father Danish. He gets his artist
bent from his Danish father, who was a top imitation wood & stone painter,
trained in the old gild schools of Denmark.

Wayne began drawing at six years of age and never looked back. THE DANE is
his "nick name" in the figure kit hobby known as "garage kits", a grassroots,
fan-based international bunch of sculptors and painters whose passion is
media-related scale figure model kits. THE DANE's early years also included
building and painting the original Aurora figure kits as a boy. Of course,
his favorite was "The Viking". Wayne sculpted in high school, college and
sporadically into adulthood. The human form has always been his focus.
Renaissance sculptor, Michelangelo is his life long mentor. A four year
veteran of the navy and a Vietnam Vet. Wayne saw lots of anatomy as an
"on-the-job-trained" medic at Naval Station Hospital in Danang, Vietnam as a
Triage ER worker tending war casualties.

Wayne saw his first present-day "garage figure kit" 8 years ago in the pages
of the original "Model & Toy Collector" magazine, published by Bill Breugman.
This was an epiphany for Wayne. He attended his first figure kit convention 7
years ago in Louisville, KY (Wonderfest) and walked away with First Prize for
his model of the Horizon "Terminator 2". Next year he was sculpting.
Wayne is unique among sculptors in that he enjoys teaching his craft as well
as doing it. In 1993 he introduced his first series of instructional videos
on figure sculpting in polymer clay and also tapes on building & painting
figure kits. This, in itself is not unusual, except that THE DANE presents the
entire instructional process almost uncut to the viewer. His figure sculpting
and kit modeling tapes run from 4 to 16 hours per each title in his line of
over a dozen subjects. Wayne has written numerous "how-To" articles in Kit
Builders magazine almost since the figure kit magazine's inception and has a
standing reputation as "The Dick Smith" of the figure kit hobby, freely
disseminating his knowledge to all who approach him.

THE DANE's two biggest highs are figure sculpting and turning others on to their own creativity through his videos, articles and at shows.
His motto is "talent is secondary to desire."

You can email THE DANE at Figuredane@aol.com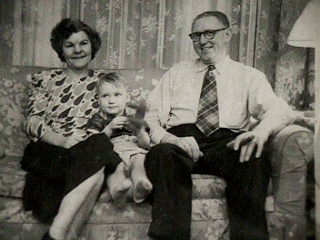 "Gratuitous baby shot of the BABY DANE with parents."